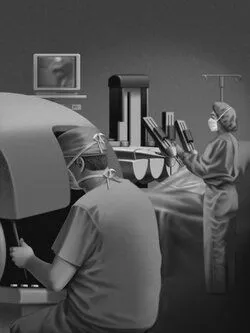 The da Vinci®
The da Vinci® surgical system enhances the expertise of the doctors at Advanced Women's Healthcare, combining their skill with robotic assistance that allows more precise surgery. Our physicians perform several gynecologic procedures with the robotic system, including hysterectomy. Using da Vinci, women receive the care they need with less bleeding and a quicker recovery time. Discuss this with your provider if you want to learn more about da Vinci robotic surgery and whether it's available for your surgery.
---
Da Vinci Robotic Surgery Q & A:
What is robotic surgery?
The team at Advanced Women's Healthcare use the innovative da Vinci® surgical system to perform minimally invasive surgery. The system combines your doctor's surgical skill with the exceptional precision of the robotic arms, which are completely controlled by your doctor.
The robotic system never replaces human care. When you have robotic surgery, you have a full surgical team in attendance, including assisting surgeons, anesthesiologists, nurses, and surgery technicians.
What gynecologic procedures are done using da Vinci robotic surgery?
Most gynecologic surgeries that once required open surgery can be done using minimally invasive robotic surgery. The following are a few examples.
Myomectomy: Removal of uterine fibroids
Cystectomy: Removal of ovarian cysts
Endometrial ablation: Removal of uterine tissues
Pelvic floor reconstruction: Repair pelvic organ prolapse
Hysterectomy: Removal of the uterus with or without the cervix, fallopian tubes, and ovaries
No matter what type of procedure you need, when you have minimally invasive robotic surgery, only a few small incisions are made. Since the small incisions cause less trauma than a long, open incision, you gain health benefits such as:
Less bleeding
Significantly less pain
Fewer complications
Quicker recovery
Minimal scarring
Compared to open surgery, your hospital stay is also shorter with minimally invasive robotic surgery.
How does da Vinci robotic surgery work?
There are three parts to the da Vinci system. One part houses the image processing equipment, while the second part contains the multiple robotic arms. One of the robotic arms holds a laparoscope with its camera and lighting, while the other arms hold surgical instruments.
The third component is the surgeon's console. From this command center, your Advanced Women's Healthcare surgeon views the surgical site on a monitor and wears sensitive hand and fingertip controls that transmit their movements to motions performed by the robotic arms.
What are the advantages of da Vinci robotic surgery?
The robotic arms are smaller than a human hand, so they can perform surgery in tight areas in your body with minimal trauma to the surrounding tissues. Additionally, the da Vinci system features advanced technology that improves the procedure, such as:
EndoWrist™ instruments
The robotic arms are built with EndoWrist instruments that enable fine movement and a range of motion that's much better than human hands. With these precise robotic features, your doctor's hand movements are essentially translated into tiny surgical instruments at the end of the robotic arms.
Superior visualization
The system provides high-definition and zoom capability that provides a better view inside your body than your doctor has with other imaging devices.
To learn whether da Vinci robotic surgery is an option for your gynecologic surgery, call Advanced Women's Healthcare.