Advanced Women's Healthcare
Obstetrics & Gynecology located in Bloomington, IL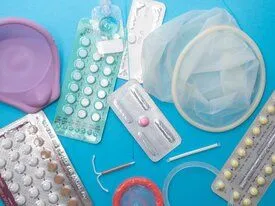 Contraception
There's no single best method of contraception to suit every woman. That's why board-certified OB/GYNs and the team at Advanced Women's Healthcare in Bloomington, Illinois, offer a variety of birth control options. To find the best type of contraception for you, call to book an appointment today.
---
Contraception Q & A:
What is contraception in Bloomington, IL?
Contraception, or birth control, is any method, medication, or device designed to prevent pregnancy. If you're sexually active and don't want to have a baby, you need to use contraception.
The team at Advanced Women's Healthcare carefully evaluates your needs and helps you choose the best method of birth control for your lifestyle.
What are the different types of contraception?
There are many forms of birth control available today. Some are easier to use or more effective at preventing pregnancy than others. Different birth control methods include:
Short-acting hormonal methods
These methods release hormones that prevent you from getting pregnant. They include the birth control pill, patch, vaginal ring, and shot. You need to take a pill daily and change your patch or ring every month. The shot lasts for three months before you need to see your provider for another. Short-acting hormonal contraception is 91-94% effective at preventing pregnancy.
Long-acting reversible contraception (LARC) methods
LARC methods include intrauterine devices (IUDs) and birth control implants. They're the easiest and most effective forms of reversible contraception available.
Your provider inserts an IUD in your uterus or an implant in your arm during a visit to Advanced Women's Healthcare. After that, these methods are more than 99% effective at preventing pregnancy and last 2-10 years, depending on the type.
Permanent birth control
Also called sterilization, this is a surgical procedure that permanently prevents pregnancy. This method of contraception is difficult to reverse if you change your mind.
Barrier methods
Barrier methods are condoms, female condoms, and other over-the-counter devices that block sperm from entering the uterus.
Condoms aren't the most effective way to prevent pregnancy, but using latex condoms is the only way to protect yourself from sexually transmitted diseases (STDs) like HIV.
How do I know what type of contraception is best for me?
Your choice of birth control depends on many factors, including your overall health, amount of sexual partners, family medical history, and desire to have children in the future. The team at Advanced Women's Healthcare reviews your medical history and performs a physical exam before recommending the best type of birth control for you. They describe the risks and benefits of each type to help you make an informed decision.
To find out which method of birth control is best for you, Call Advanced Women's Healthcare at (309) 808-3068
to book an appointment today.